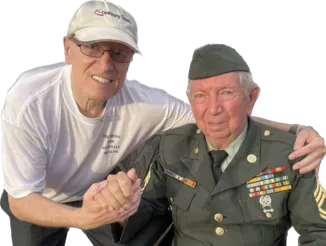 Cancers Answer has great concerns about Veteran Healthcare. Almost 2 Million Veterans have no healthcare. Therefore, many veterans do not consult healthcare physicians about screening for Prostate Cancer. Cancers Answer would like to offer free screening to detect this insidious disease. Screening will detect any issues with the prostate gland and offer treatment or medications that will improve the problems detected. Cancers Answer is passionate about eradicating this sinister disease among men of all ages.
Personal anxieties can discourage veterans from seeking the treatment they need. Many are often skeptical about the effectiveness of treatment and whether they'll experience side effects from any medication.
Knowledge is power. Once a diagnosis is given to the patient, they can then decide how they want to proceed. We at Cancers Answer will educate the patient and remove any personal anxiety. Cancers Answer uses the latest technology available in this field. Dr. Ronald Wheeler has discovered through research and patient trials that certain cancers can be eradicated with the use of his Exclusive Patent for HIFU-EEA. HIFU-EEA is short for High Intensity Focused Ultrasound with Energy Enhanced Application. This procedure will eradicate the cancer without surgical incision. This procedure instead of a Radical Prostatectomy which removes the whole prostate gland, will leave the patient without many of the side effects of this procedure. In addition to leaving the gland intact, Cancers Answer procedure can, in addition to eradicating the cancer, provide the added benefits of no impotence, incontinence, or possible bladder damage.
Cancers Answer would like to provide access to Veterans. By expanding access, you open doors to treatments and provide options for military members. We want to be impactful and spread awareness. The needs of Veterans and active military are unique. According to a report, 91% of VA facilities reported severe shortages among nurses, and 87% reported severe shortages among medical officers. Among the physician positions with the highest reported shortages are psychiatry, primary care and gastroenterology. Researchers noted other reasons veterans can't get VA care include waiting lists at VA hospitals, high co-payments for VA specialty care and a lack of a VA facility in their community.
Cancers Answer would provide various dimensions of quality in health care: safety, effectiveness, patient-centeredness, timeliness, efficiency, and equity.